Why have we waited so long to join the world of color??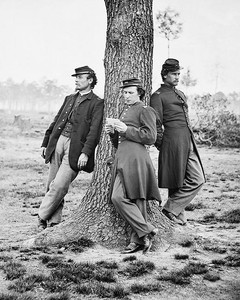 Well, this is super embarrassing...it's been two years that this project has sat around, primed and unpainted. I guess my excuse is I have been a lot busier with designing the games I want to play than with hobby crafts like painting. Still...TWO YEARS! Ugh.
In any event, here we are with the figures primed and covered with a rag. I've decided to go with painting a butternut brigade of Rebs first, as that should be easiest and get my brushes wet. I also have some ideas to use Micron pens at times. Hopefully, all this will save time and these guys will paint up quickly. Overall, I am hoping that despite having more figs per regiment than 10, 15 and certainly 25mm figs, it won't take terribly long. Or if nothing else, it will be a different kind of artistic crafty work and be interesting.
As recorded in my first "Going Small" blog post [CLICK], I hope to use the 6mm figs to have a more realistic appearance of Units on table, as well as a top-down mass effect. This will have the welcome effect of bringing a sense of proportion to the table, and instead of units of 18 or 24 representing a battalion of 500-800 Soldiers, it will be more like 60-80 figures. The ratio will be more like 1/10, and the depth distortion will be substantially less. The linear appearance of Units will be - mostly - restored and their appearance as a platoon / company on the table will be replaced by something that looks at least like a small battalion.
Reviewing the concepts for both the game and the basing / Unit system from post 2 [CLICK], I have to say they still seem both appealing and solid. Interestingly, the Units at 32 figures will have more than nearly all my old 15mm Johnny Reb guys at 20-25, but they will take up just over 3" on the table, while 15mm took up about 5". I could actually play any regimental game in a small space doing this, or the brigade / Unit game I'm thinking of - pretty cool! I will definitely be trying out some more playtests of the Neil Thomas ACW rules from Wargaming: An Introduction with these guys.
Yep, Step 1 is to DUST OFF the minis...covered by rags but it was 2 years.
Step 2: collecting my blue and grey paints - they might work, might not.
Step 3: Collect the

Brown

Paints! yes, I forgot them...
I use a system to paint variety for larger figs. I try to only generally follow it, which prevents accidental repetition [similarity and patterns] that look artificial. So one might call it systematic randomness. ;)
In this case, there are way too many rows to work down them so I'm using a linear system of painting the first three figs in a 4-fig block the same color something, say, shoes, then the next block has two, the third one, then I do the same working from the other side of the block. When they're done, I can further mix and match the little blocks when I mount them. If I was painting a regiment, I'd have to stick to the one set of figs so they didn't look TOO random, e.g. they might 90% have the same hat, same gun, same shoes, same belts, and 10% would be different with say captured Yankee equipment. Hope that makes sense.

Below, I've a pic of my first color, a Vallejo dark brown called German Camo Medium Brown #70826. I'm trying to make significant contrasts so the little guys don't look like mushy porridge with hats or something! I'm using it for gun wood and some of the shoes. A lighter brown, GW's Bestial Brown, will be a "variety color" for the same items:

Note that you need to paint the little bits first on these figs since they are so small. So I'm painting the guns, the shoes [the two browns and GW Chaos black] then the gun barrels, then hitting the larger trousers [which are recessed a bit] then I'll start working on the trunk. The face and hands will just be flesh dots, so will be among the last things done. This is quite the reverse of painting a 28mm fig, btw!
Below, the silver of the barrels using GW Boltgun Metal, highlighted with GW Chainmail at the tip-top of the barrel to give it a bit of light-catching shine. You can just barely see the barrel bands wrapping around the stock of the gun in this pic. Probably not worth painting but as they are sculpted on I can't help myself...!
Brushes that proved useful thus far are:
Craftsmart 3/0 [very fine] and 5/0 [fine] - cheap, easy to grip, holding a tip thus far.
Also, Loew-Cornell '0 round' #795, and a battered Armory 3/0 for dabbing wider bits like the trousers, and sidling paint up onto low bits like the shoes.
Colors I've been using thus far. Some of the pain is kinda junky, but a little water and lots of shaking somewhat revives them! All will be replaced with Vallejo, over time.
Overall, the Vallejo are much better paints, but I was virtually given the GW paints and altho a lot of them have dried out and died over the years, they've been worth more than I paid for them! If I had to make a recommendation, I'd say to go with Vallejo, but you'll need a little palette and some plain smooth plastic bits on which to drip and mix the paint.


Here's where we are thus far - guns, shoes and the occasional hat. Not bad.
Next, I got in some time and painted all the trousers. I was going for a mix of blues [captured Union items] and blue-greys [same, but faded, and / or CSA] and brown flannel [a very old and battered Armory paint called Butternut or Armory Dun/Buckskin. The blues and greys are from nautical USN colors by polly-S. Don't worry about them, you really shouldn't use these anyway!
Below, a close up of the same stage. My assumption is that pride will make the command group better-uniformed and MORE uniform, if you get my drift. Personally, I think the color sergeant looks like a caber-tosser so will most likely be doing some cutting and drilling very very soon.
I have to say that they look a lot better than I thought they'd turn out at first!
So far, the project has taken:
120 Minutes to clean, mount and prime all 700-ish of them
For the brigade of 92 Georgians [in my mind...we'll see]
60 minutes browns,
60 minutes black / silver guns,
60 minutes pants
300 minutes, or 5 Hours. As each paint stage for the 92 takes about an hour, I can sense this will not be quick, but it has been a lot more fun than I thought.
So what are 6mm like...
Well, the painting technique is more like "blobs and dots for effect" rather than painting in strokes like 15s and 25s. So per figure, it is much quicker. However, I'm not interested in units of 15-30 figs like my old Johnny Reb ACW [nearly all MiniFigs - nice clean figs]:
For games where a Unit is a regiment, they'll have 4 stands of 16 total of 64 figs. This will be a fig ratio of about 1/5!

For games where a Unit is a brigade, they'll have 6 stands of 16 for 96 figs in lines, with another dozen or so in skirmish order and a gun or two, for about 110-120 figures. This will be a fig ratio of about 1/10 - 1/15
Unless you are going to use about the same number of figs, I'm not sure that 6mm is a faster project. However, 6mm is certainly easier to paint than larger figures, so not a bad place to start - and if you ruin a couple of units...let's face it most people can't tell!
6mm is definitely a less expensive
project
than painting up the same number of
Units
in 25mm, even if those Units have as few as 18 figs in them! A bag of Old Glory is $18 for 30 figs, or 60 cents a fig, for $14.40 a unit. A bag of Bacchus 6mm ACW is about $10 for 96, so 10 cents a fig, for $2.40 a Unit of 24, or $6.40 for a unit of 64 like I'm doing. Sounds like about 50% off. However, the terrain in 6mm is a lot more important as people will be looking at the terrain as a landscape, whereas in 28mm they will be looking at the figures mostly and the terrain is mostly incidental [not that lovely 28mm terrain doesn't catch the eye, of course, but one doesn't feel as obligated to provide it]. Even with this, I think that paper buildings and some very nice fields will work well and cost less than 25mm terrain.
6mm is also more portable, of course. Even with cavalry the army will move in a small box [may want to get magnetic bases...] and only a Macedonian Phalanx of pikes upright will demand extra space into the 15mm size boxes.
So at the moment, I'm thinking that a 6mm project is a cheaper, more portable and easier to paint project than a 25mm one. The real challenge is provided by 10mm figures, who offer many of the same advantages but are definitely a lot easier to see.
Another question in my mind is what will look better, a less colorful army like ACW or a more colorful army like many Napoleonic and Age of Reason armies are. Sometimes lots of color is a negative, sometimes not. I'll be interested in how this project develops and the craft and artistic skills I learn along the way.
So to summarize, 6mm
projects:
- will take similar time to paint Units with more figures,
- but are easier to paint faster,
- and will cost about half as much as a 25mm project,
- but you will have to invest in some nice terrain,
- and are definitely portable.
- and 10mm may have many of the same advantages but be easier to see!
Main question - is it going to look very cool on the table??
Meanwhile, now that I've got my painting groove going, I am of course being distracted by a week of Army and Thanksgiving travel in the next fortnight, so I hope I can keep up my motivation.